Richard Stark of Chrome Hearts
"That word – collab." One could almost hear air quotes in the gravelly baritone as it landed on the offending term; he pops the 'b' at the end as if to punctuate his bemusement. "It kinda didn't exist back then, you know?" From our first moments meeting Richard Stark, it was apparent that trendy buzzwords such as "collab" hold very little weight with him. Since Chrome Hearts was founded in 1988, the label has worked with countless legendary musicians the likes of Guns N' Roses, Sex Pistols and The Rolling Stones, in addition to fashion mainstays such as Comme des Garçons, Gareth Pugh and Rick Owens, yet none of these projects were deemed "collabs" when they were conceived – they just happened. The thought of staring up at the notoriously elusive Chrome Hearts magnate armed with sapling-green jargon the likes of "collab"– even to describe a minor part of his work – seems, somehow, terrifyingly inadequate.
A tall, imposing figure met us that day, dressed all in black: sleeves rolled up to reveal sunburnt forearms and faded tattoos, black cap firmly tugged over a mass of wiry hair, and languid, powder-blue eyes like a Siamese cat. Even while sitting still and framed by wisps of incense smoke, Richard Stark exudes the perpetually-windblown ruddiness of someone who regularly faces the elements at 80 mph. Chrome Hearts owes its beginnings to his love of motorcycles ("Road bikes – Harley Davidsons, mostly," he provided). Richard's self-made riding gear in the form of leather chaps, pants, jackets and vests started the brand down a rock star and supermodel-studded path to become an era-defining institution at the turn of the 21st century. The label, headed by Richard and his wife Laurie Lynn Stark and more recently with their eldest daughter Jesse Jo Stark, now has 28 stores around the world – no small feat for a company that insists on staying true to their craftsmen's beginnings, meticulously handcrafting each piece from a single factory in its birthplace of Los Angeles.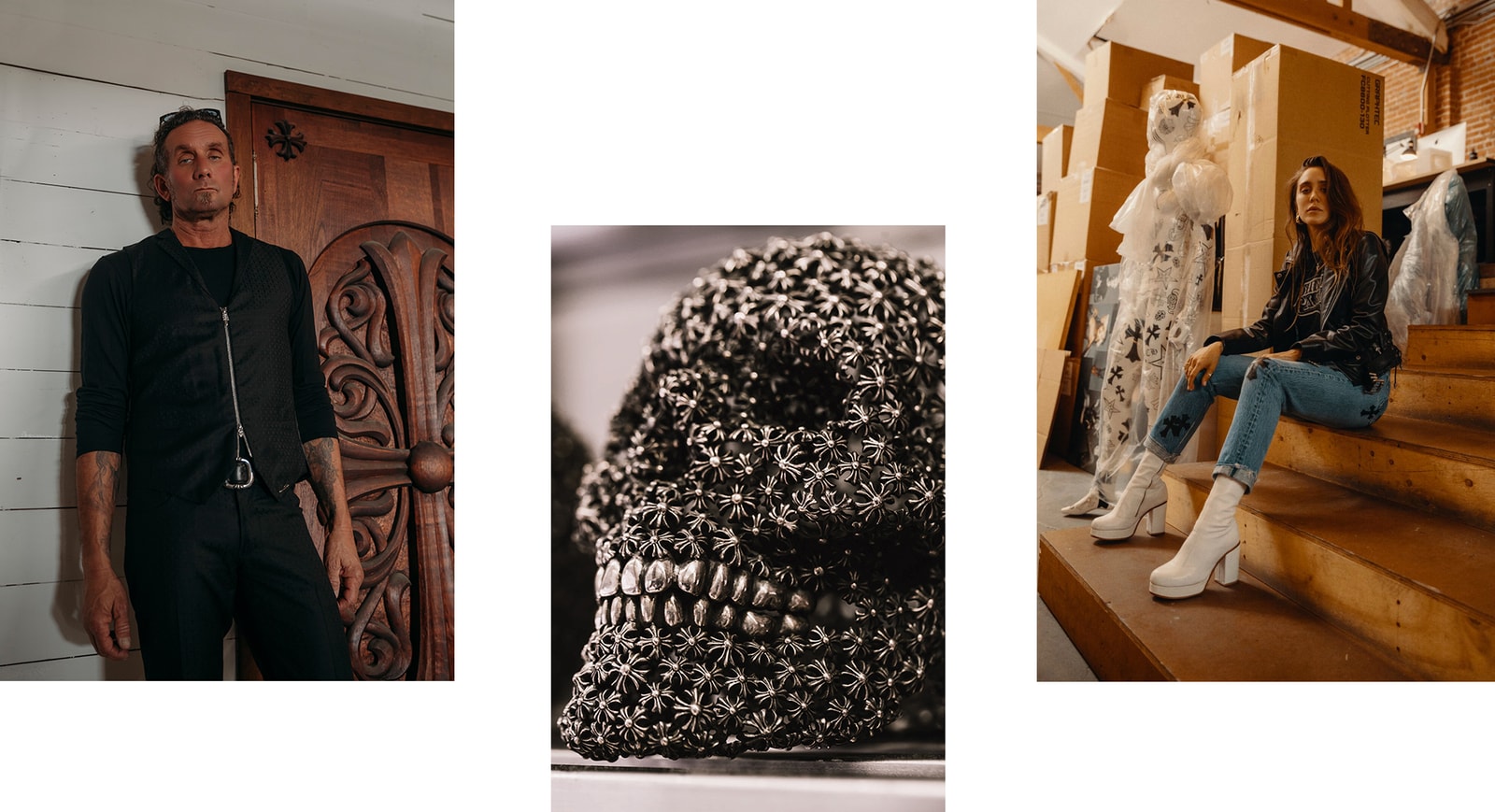 "I think if you have taste, then you can make anything."
As the direct result of Richard having spent most of his founding days enthusiastically marching against the grain with regards to almost everything, Chrome Hearts is now a veritable empire, built little by little from personal friendships and respect. The label has always possessed a certain pull for famous faces from Aerosmith to Kendrick Lamar, Kate Hudson to Rihanna. "We add collections and do collaborations with our friends, who may not have done jewelry before – but I think if you have taste, then you can make anything," Laurie Lynn says faintly, calling from somewhere in the mountains of California. Jesse Jo's spin on the brand sees Chrome Hearts working with younger figures such as artist Matt DiGiacomo – who created an eyewear collection along with hand-painted leather jackets and shoes for the label – and current it-girl Bella Hadid. Richard says, "It's not like we sat around, a bunch of old people, and said, 'What are we gonna do to stay relevant, man?'" His voice rises in pitch and he waves his hands in mimicry of himself, eyes crinkling in mirth. "It doesn't exist. There's no like, searching someone up, calling an amateur and then making a deal. If it's not with each other, it won't happen." Jesse Jo holds the same views, yet ways of establishing connections can take on different forms for Gens Y and Z in the digital age: "Millie Bobbie Brown was wearing our Chomper frames and I love that girl, I'm a fan. So if she ever wants to come in and do something, or meet us, I'm down." She continues, "My dad would never say that. But if she happened to sit next to him at a coffee shop and they had the same latte…" she pauses to let out a husky chuckle, "Heh-heh. Then maybe."